Name:
Annastasia (Anna)
Gender:
Female
Species:
Angel
Powers:
Can fly (Wings), can heal people, controls winds
Appearance: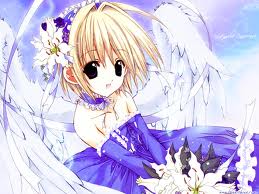 Blonde hair, blackish blue eyes.... Blue dress.
Personality:
She is kind and friendly.She loves to help people out.But she is afraid of the dark...
History:
She is an angel from heaven, she came here to help others. Creatures some think are fairy tales.
Other:
leader of the wind Realm
Role-play Sample:
I fluttered down out of the sky and land in a tree. Then seeing some
one coming I flew out of the tree and too the person. "Hello! I'm
Annasatsia, call me Anna!" I said cheerfully.
Name:
Selena
Gender:
Female
Species:
Shape Shifter
Realm:
normally the Fire realm but she travels between realms.
Powers:
Shape shifting (duh..),
normal fire realm powers, powers of creatures she is (Dragon- fly breathe fire,
etc)
Appearance:
As a human she has golden brown hair and blue gray eyes. She
is slender and tall. Her second favourite form is a dragon. The dragon has
golden scale with the same Gray Blue eyes.
Personality:
Selena loves bright
colours. She energetic and loves to have fun. She is very friendly and
sensitive. It's easy to upset her. She's kind and caring.
History:
Selena grew up in the
realm of Darkness. She was scared of the people there. She wanted to see
smiling people. She tried everything to change them but ended up leaving and
going to the Realm of Fire
Other:
She's often human or a dragon.
Role-play Sample:
I, as a human, grinned at my new friend. "Wanna see
something really cool" I asked. Before he could answer I changed into a golden
dragon. I roared then shot a little flame into the air.